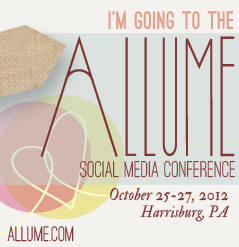 I have worked through my major nervousness - thanks to the Allume Newbie Facebook Group.
I am so excited to meet the amazing women I have connected with the past couple of weeks. I have no idea what to expect or what God has planned for me but I am going in with a peaceful servant heart! What I do know many of us will come away with a clearer picture of our ministries, new friendships, a deeper relationship with God and our hearts over flowing with joy from sharing.
As a new blogger, I have been tossing around intelligent words. Words I might say when I introduce myself to others. I can never think fast enough on my feet. So just in case we do meet and I am start fumbling for words here are some things about me.
1) I love coffee. Oh, coffee and dark chocolate. Coffee, dark chocolate and cheesecake.

2) I am a cowboy boot girl. If I am not in boots, I am in flip flops or bare feet.
3) I am so excited that I am attending Allume but I have no idea why I am really there. It's a God thing!
4) My niche, my brand, how to do something technical on a blog - I'm completely lost and I am not the girl to ask but I am soooo willing for you talk my ear off about yours. Teach Me, Obi-Wan Kenobi!
5) I am leaving at home my hubby, our 9 and 11 year old sons, a mini schnauzer, a black cat, 1 rooster, 12 hens and horse. I am a Pennsylvania Country Girl that is an Out West City Girl at heart.
6) God is leading me to write and blog but I have not yet ran down that path. I'm still tiptoe-ing asking "Why"?
7) I am shy, I like to think things through before I speak, so I will seem quiet at first but watch out. I love to laugh and have fun once I get comfortable.
8) I am not a morning person! I may look at you blankly if we meet before 9:00 am. Honestly, I will hear ever word you say but my mouth cannot form words until after my third...ok fourth - cup of coffee.
9) I will try anything once - which led me to do some crazy things like rock repelling off the side of perfectly good mountain, dirt bike riding on sand dunes, and downhill skiing slalom racing.
And 10) I am so glad to meet you. I already think you are a beautiful, gifted and amazing person.